Established in 1985, we are an independent Veterinary practice.With a small team benefiting from decades of combined experience in Veterinary Care, you can be sure that your pet will receive the best, dedicated treatment and care.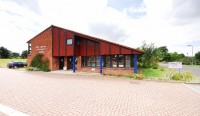 Our purpose built main surgery is situated in a quiet cul-de-sac in it's own grounds on Stantonbury Fields, with ample private parking and surgeries by appointment, to minimise waiting and stress for both you and your pet.
Alternatively, we have a light and airy branch surgery in Oxley Park Local Centre which also has surgeries by appointment and ample parking right outside, with the same experienced staff on the rota.
Our online shop can supply your pet's almost every need, from discounted premium veterinary diets by Royal Canin, Hills, ProPlan and many others, to microchip operated cat (and small dog) flaps, and we can usually have your order ready to collect the next day.
No matter what age your canine or feline companion, we have a Health Plan to enable you to spread the cost of routine Veterinary Care throughout the year. These include additional health screens for elderly patients for the early diagnosis of the more common age related problems.
Why not come along to one of our free nurse clinics and see what else we have to offer?
Either call us on one of the following numbers, or click the links below to find out more about our practice
Spring is here....
Find out how we care for your growing kitten when it's time for "that operation". Don't let fear of the unknown let you put off neutering your kitten until it's too late. Read this article and call us now for a quote, and to book your kitten in.
Laser Therapy
Lasers have been used in human medicine since the 1970s, both for surgical cutting applications and for therapeutic uses. We can now offer laser therapy,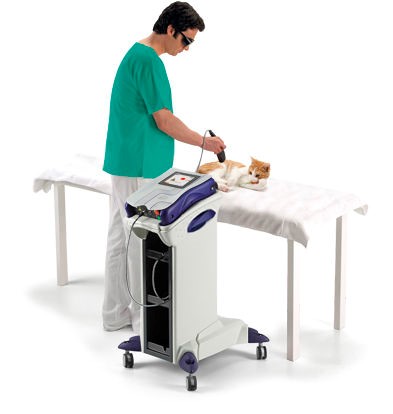 using a Multilocked Laser System Class 4 laser machine. Sessions only take minutes, and are undertaken by our trained nurses. We initially recommend 6 sessions over a period of three weeks, followed by further, usually monthly sessions, for more chronic conditions.
By modulating inflammatory mediators, the MLS laser system is an effective alternative to NSAIDs (Non-steroidal anti-inflammatory drugs) with strong analgesic and anti-inflammatory effects. It can be used for a wide range of clinical applications from musculoskeltetal conditions such as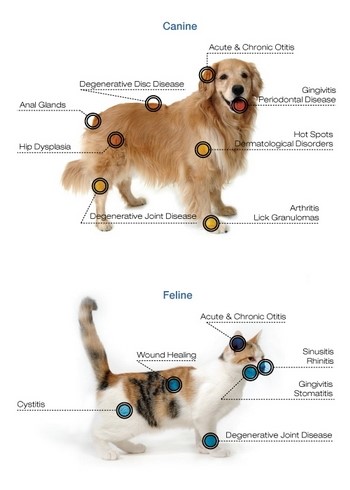 osteoarthritis and muscle damage to inflammatory skin conditions from otitis externa to lick granulomas.
If you think your pet may benefit from this type of treatment, call us today. If you are not registered with us, please consult your own veterinary surgeon for a referral. We will be happy to help.
Welcome to our new on line booking service
You can now book a routine appointment for your pet online, whether you are new to the practice or a registered client. Please follow the link below. Please select the surgery that you would like to attend. You will then have three options ;
New to the practice please use this link if you do not have a pet registered at the practice.
Already visited the practice please use this button if you are a registered client but have not used online booking before
Returning online user please use this button if you have used online booking previously
Once registered for online booking, you will have a Pet Portal which will allow you to see all the pets that you have registered with us, plus all reminders set for each pet and any future appointments that have been made. You will be able to book appointments, upload a photo of your pet(s), inform us of any address changes and let us know how you would like us to contact you with respect to reminders and other practice communications.
Schedule an appointment for Stantonbury Fields Surgery
Taking your dog on holiday to the continent this year...........?
Then this article is a must read in order to protect the health of your pet.
But before you read that, please read this :
Rabies vaccination and passports

Recently our professional indemnity insurers have informed us of a worrying little, shall we call it "interpretation", of the rabies vaccine clinical data sheet, by some French authorities.
There is no absolute contra-indication to giving the rabies vaccine at the same time as another vaccine, it is at the veterinary surgeon's discretion. Clearly the powers that be at the French border are of the opinion that veterinary surgeons are obviously incapable of exercising such discretion, and as such giving rabies at the same time as another vaccine invalidates the rabies vaccination, and therefore the passport! Strangely, this only seems to happen on the way out of France, not on the way in.
But all is not lost. Luckily the same helpful chaps always seem to know an equally helpful veterinary surgeon in the local town who will re-vaccinate your pet for the return journey!
Actually, we are not too sure how this would work, as presumably having invalidated the passport, especially if this was the first and only rabies vaccination on this animal, re-vaccinating does not always solve the problem. You may find that you cannot travel this pet for another 3 weeks. No doubt the same helpful officials will also know of a reasonably priced kennels or an hotel in the area!
Friends with benefits, eh? We couldn't possibly comment.
If you are worried that this may affect you, please contact us. Of course, if your pet's normal annual Distemper, Parvovirus, Leptospirosis etc. vaccinations are not recorded on your pet's passport (and there is no obligation to do so) and you do not have your pet's normal vaccination certificate with you (and there's no obligation to carry or show that either) they will never know!!
Related sites